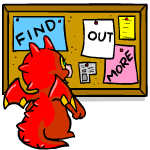 The following are jobs that are currently avaliable. If you think you would like to take up a particular job, neomail the Job Manager. If you have any questions please contact the Job Manager. All these jobs are subjected to avaliability. Duties of applicants are given by the Job Manager of the council based on the applicant's capabilities. If you are granted a job by the manager you may only keep the job if you are really doing your job. This rule only applies to limited capacity jobs.




*Points to note before applying:*

Please state clearly the job title in the subject field of your neomail.
Please resend your application if no reply is sent within 7 days.




NOTE: You may NOT apply for any job if you are A. Not in the guild or B. Your on council. Council may only apply for jobs with unlimited capacity. Such as Recruiter and Adoptable Designer.


Thank you,
Carolyn (Guild Leader)
---
Job: Official Greeter
Job Description: By taking this job you will be responsible for welcoming our new members in the guild!! You must neomail every new member that joins the guild on your assigned day, welcoming them nicely. We need 7 different members for this job so we have a member to welcome other new members each day. If nobody new joins on your assigned day then you do not have to do anything. And if the 'Creative Member' you welcome has any questions regarding the guild, you need to reply them a.s.a.p.

Requirements - 1) Have a rank of Creative Spirit or higher. 2) Friendly. 3) Online atleast once a week. 4) Responsible.

Pay - 1 codestone a week, as long as you do you job on your assigned day. Pay days are Saturday.
Positions Avaliable:
Sunday Greeter - Open
Monday Greeter - Open
Tuesday Greeter - Open
Wednesday Greeter - Open
Thursday Greeter - crystalgiraffe
Friday Greeter - Open
Saturday Greeter - Open
---
Job: Battledome Tournament Team
Job Description for Tournament Captain: He/She is supposed to run a battledome tournament every 3 months organized by the guild and update them. Responsible in mainting and advertising for BD tournaments every 3 months! Must have all prizes for the tournament winners approved by higher council before tournament takes place! He/She is responsible for making sure that each tournament he/she is incharge of takes place on time every 3 months! May hire up to 5 assistants if necessary.
Job Description for Assistants: Must help the tournament captain in various ways that he/she needs. This position may only be filled after the captain position is filled.
Job Description for Extras: Exactly what it says, he/she is a extra helper. This position may only be filled after the Captain position is filled as well as both Assistants jobs.

Requirements - 1) Responsible and reliable. 2) Online every day/every 2 days. 3) Have a rank of Brilliant Mind or higher. 4) Must be an active TCS-ian. 5) Creative (of course). 6) Must be very experienced in the BD.

Pay - Not yet determined. Pay days are Saturday.
Positions Avaliable:
Tournament Executive - Open
Executive Assistant 1 - Open
Executive Assistant 2 - Open
Extra Helper 1 - Open
Extra Helper 2 - Open
Extra Helper 3 - Open
---
Job: Library Crew
Head Librarian
He/She is required to tend TCS's library account every now and then and distribute books to fellow members who requests for one. Responsible for restocking the library with books. MUST BE capable of earning NPs through the library account to restock books with. In charge of tending the account and is responsible for everything that takes place in the library including the actions of the Junior Librarian. Issues jobs to the Junior Librarian.

Junior Librarian:
Helps the Head Librarian by doing various jobs passed down such as earning NPs, buying and stocking up books and issuing books to the members.

Requirements:
1)Responsible and reliable, 2)Online every day/every 2 days, 3)Have a rank of Brilliant Mind or higher, 4)Must be an active TCS-ian, 5)Sociable, 6)Trustworthy

Pay - Not yet determined. Pay days are Saturday.
Positions Avaliable:
Head Librarian - kayniccat03
Junior Librarian - Open
---
Job: Contest Coordinator
Job Description: He/she must create and maintain atleast 1 weekly/monthly contest! This means contest must be original (meaning we don't have such a contest in the guild yet) and if you create a contest you create the page where it is held, and you are responsible for players taking part in the contest and making sure that they receive there prizes fairly and on time. You are not responsible for providing the prizes, however you still must have contest and prizes approve by higher council before it takes place.

Requirements - 1) Responsible and reliable, 2) Online once a week, 3)Have a rank of Brilliant Mind or higher, 4) Must be an active TCS-ian, 5)Sociable

Pay - Determined by Council on the complexity and frequency of the contest. Pay days are Saturday.
Positions Avaliable:
Contest Cordinators - Unlimited
---
Job: TCSG Recruiter
Job Description: Anyone and Everyone can be a recruiter! This job is based on points. Please go to the Refferal Page to learn more.

Requirements - 1)Must be a member of the Creative Side Guild, 2)Be Honest

Pay - Point System pays as follows:


1 person - scratchcard
5 people - book
10 people - random Codestone or faerie
20 people - 3 codestones or 3 faeries
50 people - A PAINTBRUSH!
And no matter when you turn you claim you rewards, for every one person you reffer you earn 3 rank points!
Positions Avaliable:
TCSG Recruiters - Unlimited Capacity
---
Job: Adoptable Designer
Job Description: Make a set of 5 or more beautiful adoptables. Please make them transparent in (.gif) format if possible. Submit the adoptables to Carolyn via hotmail by attaching your adoptables to the e-mail! :) If you have any questions just neomail Carolyn to ask.

Requirements - 1) creative, 2) have a rank of Brilliant Mind and or higher, 3)takes pride in art work

Pay - 2 codestones for every 5 adoptables submitted and accepted!
Positions Avaliable:
Adoptable Designers - Unlimited Capacity